Do you need gutter work?
From installing a new gutter system to replacing the old one, The experts at Sonntag Roofing know how to get the job done correctly. We always provide top-quality gutter services, using only the most advanced gutter technologies and techniques that are available. This ensures that you will be 100 percent satisfied with your gutter system needs. With so many gutter service contractors available, how do you begin to choose one? Let our top-rated company help you decide
Gutter Services from Sonntag Roofing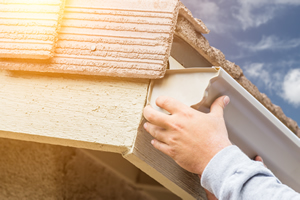 Our dedicated crew of gutter specialists makes their expertise evident on each job. Offering many years of superior protection, your new gutter system will also provide heightened curb appeal. If you intend to maintain your home's value and structural integrity, gutters are absolutely necessary. In knowing this, gutters and downspouts in poor condition often cause more problems than they solve. A properly installed, high-quality gutter system is one the most important investments you can make for your home. A new gutter system directs rainwater away from your foundation, siding, and landscaping effectively, maintaining your home's good condition.
Gutter Installation
Standard grade gutters are installed in individual sections, piece by piece. This was the only available option for decades. These standard types do work, however, the joints along the length of the gutters create the conditions that cause leakage. These traditionally styled gutters are better than no gutters at all, but today you have another choice. New technologies have made seamless gutters a more affordable choice for the average customer and, once a person realizes the difference these gutters make in protection, they never look back. Our seamless gutter sections are custom-cut on the job-site to a custom fit. This allows the need for seams at only the corners of your new gutter-system, ensuring a stronger, leak-proof product. Our gutters are made of K-Style heavy-gauge material in 5" and 6". We offer a wide variety of colors and gutter options.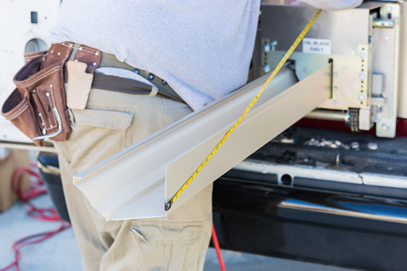 Gutter Repair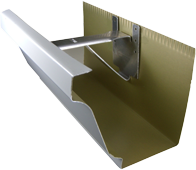 A professionally installed gutter system is definitely a must-have, but even a superior system sometimes needs a little maintenance or repair work. If a gutter in need of a little work is not fixed quickly, it can lead to much larger problems like leaks or rotten fascia boards. Even If you haven't noticed any problems with your gutter-system, it's always recommended that you schedule a regular check-up from Sonntag Roofing.
Go Back